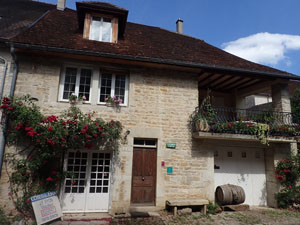 An endearingly courteous and generous couple live here with all the time in the world for you and a delightful art gallery in their vaulted basement : Madame embroiders but sohw other artists' work and their son produces good organic wines and eaux de vie.
The family have eaten organically for almost 50 years and with their naturally painted house, chemical-free garden and eco-friendly cleaning products they've earned a hat tip from EcoCert.
It's a rustic old wine merchant's house ans the price reflects the décor, but the picturesque village, the rooms under the hemp-insulated roof, the lovely view of orchards and meadows, and the brook to sing you to sleep, all, after a fine meal with your adorable hosts, make it special.